Costa Blanca Hotels
MAGIC ROCK GARDENES
ALMA
TROPICANA SUITES
General description: The hotel is located in Rincón de Loix near Magic Rock Gardens, about 350 m from Levante beach.. Room Description: Air conditioning (19 / 6 - 30 / 9), T.V. color, automatic telephone, two beds and a sofa in the living room, bedroom with 2 beds, bathroom, mini-fridge, iron (upon...
MONTPARK
PARAISO 10 GESTALTUR
General description: Modern building with a big pool and beautiful gardens located in a calm area. The keys must be taken at Gestaltur office, located at 18, Cuenca Street. Hours: 9-14h 16.00-20.00HRS from Monday to Saturday. Sunday, 09.30-13.00. If you arrive later than the opening hours, you must...
Montemar Benidorm
The Montemar is a warm and inviting space, ideal for an unforgettable holiday by the Mediterranean Sea. Located 30 meters from the Poniente beach, on the beach and opposite the Parque de Elche. The hotel offers rooms at the Hotel that have bathroom, telephone, TV with international channels, free...
AL_MA HOTEL
BENIDORM is an exceptional destination which is reflected in the ambience of the AL_MA HOTEL, a central and well-positioned hotel in terms of what the city has to offer tourists. It's 86 rooms offer the features and services needed to ensure that customers have a comfortable stay. We offer...
Onasol Fleming Hotel
The 2-star Onasol Fleming Hotel is situated in the popular resort of Benidorm on the Costa Blanca coastline of southern Spain, welcoming singles, couples and families seeking an affordable fun in the sun holiday. The Onasol Fleming Hotel has 104 comfortable rooms available over 7 floors and...
Gala Placidia Hotel * Special Offer*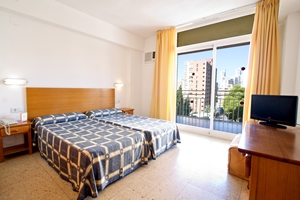 SPECIAL OFFER RATES + Late Check-Out 5pm (Subject to availability) ** 7 nights minimum stay - This offer is not applicable to single rooms** This beach hotel, with a relaxing and cosy atmosphere, was renovated in 2006 and comprises 136 double rooms on 8 floors. In the lobby there is a 24-hour...
Sandos Monaco Hotel & Spa 4*
***cots are payable locally 5€ per day*** All Inclusive Meals: Breakfast; Lunch; Dinner, Buffet, Restaurant, Daily. Snacks, Restaurant (in between main meals), Daily. Drinks: Locally produced Alcohol; Locally produced non Alcohol, Soft drinks; Hot drinks; Cold drinks; Wine; Spirits; Juices;...