Costa Blanca Hotels
Gala Placidia Hotel * Special Offer*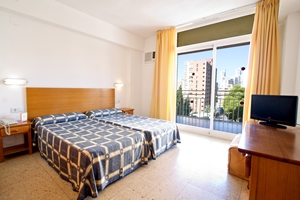 SPECIAL OFFER RATES + Late Check-Out 5pm (Subject to availability) ** 7 nights minimum stay - This offer is not applicable to single rooms** This beach hotel, with a relaxing and cosy atmosphere, was renovated in 2006 and comprises 136 double rooms on 8 floors. In the lobby there is a 24-hour...
Sandos Monaco Hotel & Spa 4*
***cots are payable locally 5€ per day*** All Inclusive Meals: Breakfast; Lunch; Dinner, Buffet, Restaurant, Daily. Snacks, Restaurant (in between main meals), Daily. Drinks: Locally produced Alcohol; Locally produced non Alcohol, Soft drinks; Hot drinks; Cold drinks; Wine; Spirits; Juices;...
MarConfort Flamingo Playa Apartments 2*
This apartment complex, nestled in a quiet area of Benidorm, is very nicely situated within walking distance from Playa de Levante. The centre of the town can also be easily reached on foot; here guests will be able to find a number of restaurants and bars, suitable to all tastes. The nearest golf...
MarConfort Flamingo Benidorm Aparthotel 3*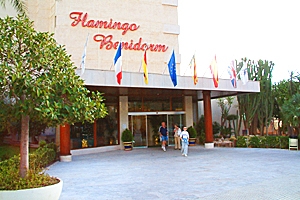 Flamingo Benidorm is located in a quiet area of Benidorm at 10 minutes walk from the levante beach. Guests at Flamingo Benidorm can rest in a calm atmosphere after a busy day in one of Spain's liveliest tourist centres. Benidorm is famous for its long sandy beaches and its hectic nightlife....
Calas Marina - Package
Guests are welcomed in the elegant lobby with a 24-hour reception desk, 2 lifts and a currency exchange counter. Further facilities include a conference room with faxing and copying facilities, a games room, a cosy café and a bar with a terrace affording views of the beautiful gardens....
Flash Hotel **ADULT ONLY**
This beach hotel, with a relaxing and familiar atmosphere, has been refurbished. It offers a total of 192 twin rooms spread over 14 floors. The hotel also provides a lobby with 2 lifts, a 24-hour reception desk and currency exchange facilities. In the establishment, guests will find a café,...
Los Dalmatas Hotel ****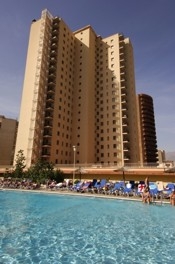 **Renovation of one of the lifts in the the hotel will commence from 4th Feb and due to be finished by 16th April** Los Dalmatas hotel is located in the area of Rincon de Loix, approximately 100 m from Levante Beach in a major shopping and entertainment area. About 10 minutes from downtown...
Vista Oro **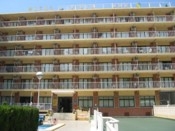 Situated in the heart of Benidorm, in a large commercial area with all kinds of shops and services around. Levante beach is just 300 meters away and halfway have a taxi to get around town without having to take the car . The hotel has spacious gardens and solarium, ideal for family holidays. Rooms...
Mar Blau **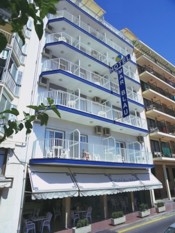 Mar Blau Hotel is located in front of the Poniente Beach and Elche Park. Enjoy a marvelous country views in a cozy and warm atmosphere. To get around the city you can use the public bus sevice or taxi, both located 50 meters away. Rooms 53 double fully equipped roomson 10 floors, most of them have...
Fleming Hotel **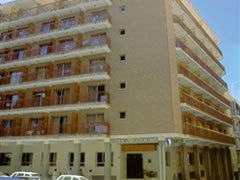 Located about 150 meters from the Poniente Beach. The nearest bus stop is only 100 meters away. Located in a quiet and ideal for a short break close to the beach. Habitaciones The 104 fully equipped rooms (101 double and 3 single) arranged over 7 floors. •Air Conditioning •Heating...